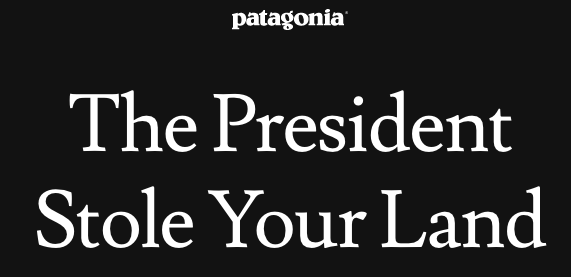 Does Your Brand Stand For Something?
Does your brand stand for something?
Do you hold that view so strongly that you would call the president of the United States a thief in a blaring headline on your website?
Patagonia does.
The outdoor clothing and gear company responded immediately to President Trump's announcement this week that his administration will shrink Utah's Bears Ears National Monument by 85 percent and Grand Staircase-Escalante National Monument by about 46 percent, opening the land up to oil drilling, mining and more planet-killing, money-making activities.
Patagonia launched a web site accusing Trump of "stealing your land."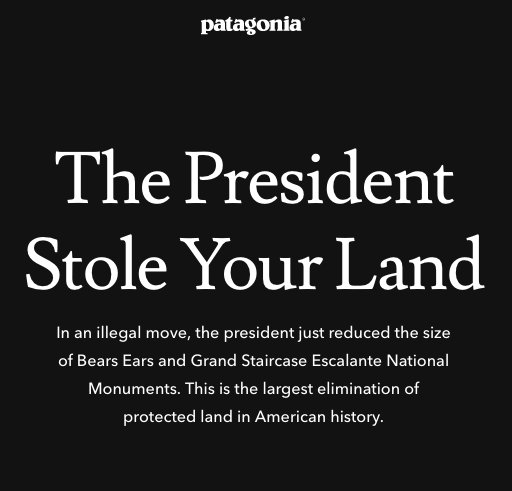 It's a provocative move, but that's nothing new for Patagonia's founder Yvon Chouinard. He started the company from the back of a van and has never lost his outsider spirit even as he's built a wildly popular brand driven by environmental responsibility.
Here's the long and short of the situation, according to Patagonia: "We believe the environmental crisis has reached a critical tipping point. Without commitments to reduce greenhouse gas emissions, defend clean water and air, and divest from dirty technologies, humankind as a whole will destroy our planet's ability to repair itself."
That's not the kind of language you normally read on a corporate web site, but Patagonia also walks the walk with its sustainably produced products and corporate activism. They give 1 percent of total sales revenue (not profits, sales!) back to environmental groups.
With Patagonia, it's not "greenwashing." They live it.
That adds significant cost to their products, but Patagonia's customers are willing to pay extra for a well-built item that proudly identifies its user as being committed to the environment. Patagonia, for many of its customers, is a badge of identity, a tribe they belong to.
Patagonia has become a large company almost in spite of itself. When told that Chouinard had made the Forbes list of billionaires for the first time in 2017, the company's response was, "We strongly oppose being included on this list."
Not your usual CEO behaviour.
Environmental responsibility is nothing new in the corporate world. But many – maybe most – companies only dip their toe into it, buying a portion of green power or encouraging recycling. It's a Corporate Social Responsibility checkmark, not a true commitment.
Patagonia has made environmental responsibility a core operating principle. A few years ago it ran an ad encouraging people to buy nothing on Black Friday – the busiest shopping day of the year.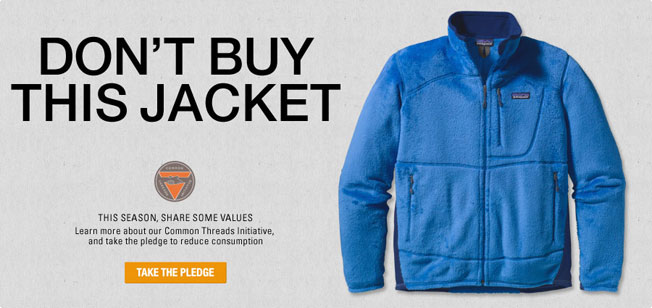 In our disposable culture, Patagonia stands out by encouraging people to repair things rather than buy new ones. They even have a dedicated repair facility where people can have their well-worn goods fixed.
There's a lesson here.
Good brands need to stand for something.
Of course, not everyone will be clearly defined by a policy issue like Patagonia. But a brand that stands for something can be differentiated from the herd of competitors.
That brand can stand for innovation, for fun, for equality, for design and more. Think Warby Parker, Apple, Tom's Shoes – those brands all stand for something. That position forms a fundamental part of their corporate storytelling.
They key is that, like Patagonia, it needs to be real. People sniff out hypocrisy quickly, and it spreads like wildfire on the web.
Remember Pepsi's disastrous contribution to the Black Lives Matter discussion? Who better to tackle the complex issue of race and police brutality in the USA than Kendall Jenner?
The ad looked exploitive because it was. Pepsi had no public mandate to speak to this matter. It felt like a marketing ploy. In the face of a massive backlash, Pepsi quickly pulled the ad.
Yet somehow Kendall Jenner is still a thing.
But I'll take Yvon Chouinard any day.