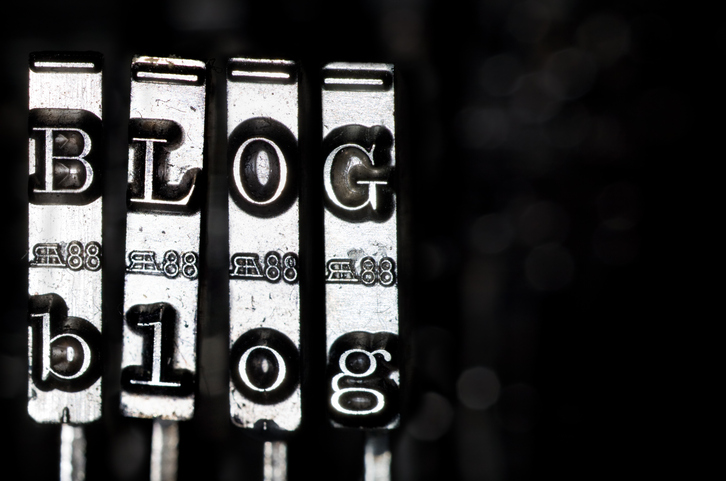 Your Business Should Have A Blog – And Use It
Do you have a blog on your company's web site?
You really should. Seriously.
And you should use it regularly.
It's very easy to set up a blog if your site doesn't have one, and even easier to use it to communicate directly with your audience – customers, partners, prospects, potential employees and more.
It's almost 2018, and a surprising number of business owners are still resistant to having – and properly using – a blog. I'm not sure why.
A blog lets you share product information, company news, opinions and much more directly with your audience. It's not filtered (or distorted) by media or others. You control the channel and the message. You can use it to sell your brand.
Get past the hang-up people have with the term "blog" – it feels almost fossilized, like the "Information Superhighway," and calls to mind some Internet troll in his basement, his fingers covered in Dorito dust, espousing his theories on UFOs or Game of Thrones.
A blog post doesn't have to be text. You can make your post an infographic, a podcast or even a video.
The blog is simply a platform for you to share your message.
It's true that most people won't come to your blog on their own – that's where social media comes in. You can share your posts with your audience through your social channels, and promote them in your content stream to reach more people.
A new study by researchers at UMASS found a growing number of Fortune 500 companies are using blogs to communicate with their audience. In 2017, 42 percent of Fortune 500 companies had a blog, up 6 percent from the prior year.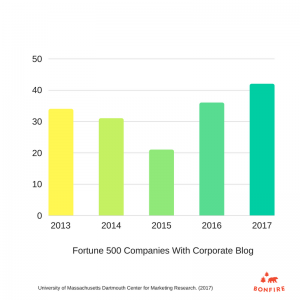 The researchers found that tech companies – hardware and software – were big users of corporate blogs (no surprise there.) But so too were temporary worker companies, telcoms and securities companies. The companies that didn't use blogs were old-school businesses like pipelines, tobacco and railroads.
What's also interesting in this research is the decline of blog usage from 2013 to 2015, then a marked increase over the past two years. The early hype about blogs might not have paid the dividends that companies expected, but with modern customers and influencers seeking out information directly, we are seeing a real increase in blog use.
Another interesting point noted by the researchers was the decline in comments being allowed on corporate blogs. Blogs featuring comment sections declined from 78 percent in 2014 down to 51 percent in 2017.
This is not surprising. The anonymity of the web brings out the worst in people. I'm actually surprised that half of Fortune 500 corporate blogs allow comments, given that many media sites are moving away from providing a platform for anonymous trolls.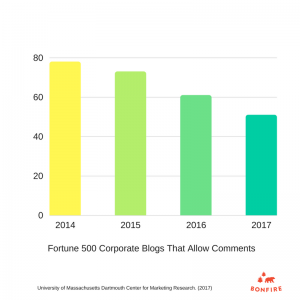 The takeaway here is simple – every company should have an active blog and use it consistently to communicate with its audience. Stop wasting time issuing press releases to an indifferent media and communicate directly with the people that matter to your business.
Build your own community around your brand. You have the same platform used by the most progressive Fortune 500 companies.
Take advantage of it.