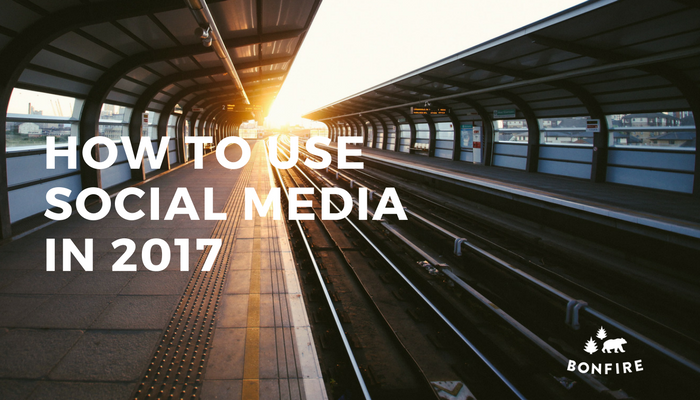 How To Use Social Media In 2017
AS 2017 BEGINS THERE IS NO END OF DISCUSSIONS ABOUT THE STATE OF SOCIAL MEDIA, PARTICULARLY AS A MARKETING CHANNEL FOR BRANDS.
Social media is dead, some wail.
No social media has never been more relevant, argue others.
The reality is social media is not going away. Sometime fairly soon, Facebook will hit 2 billion users around the world.
Think about that for a minute – 2 billion people, more than a quarter of the world's population gathered together (and easily accessible to marketers) in one place.
Holy shit.
So ease up on those Facebook obituaries for a bit, will you?
The real question to ask is not "Is social media dying?," rather it is "How can I use social media effectively?"
That's because social media networks are increasingly difficult for businesses to use effectively.
Sites like Facebook, Twitter and Instagram are constantly tweaking their algorithms to make what users see interesting and engaging. They need their service to be "sticky" so that people come back again and again. Most content relevant to users is from their friends, not boring corporate content.
Those algorithm changes resulted in the organic reach of brand Facebook posts dropping from around 16 per cent in 2012 to as low as 1 or 2 percent today. That means if you simply post lacklustre content on Facebook and walk away, it will only reach a fraction of your existing audience, and almost no one new.
So you need to find ways to amplify your posts to reach a wider audience and make the whole thing more worthwhile.
That starts first and foremost by producing good content – relevant, timely, educational and entertaining content.
It's important to bear in mind digital marketing guru Gary Vaynerchuk's recent message that "no amount of paid media is going to turn bad creative into good content." No one wants to read your sales brochure. Make it interesting and people will read it, then it will begin to spread.
You can boost it along the way. Using the right hashtags – consistently – will help you build a larger audience.
Then, of course, there is paid promotion. The reality today is that Facebook and the other sites are no longer really "free" for companies or not-for-profits. You need to spend a bit of cash to ensure your existing audience sees your content, and that it reaches a larger audience of potential fans or customers. And with the targeting capabilities of the social networks, you can get granular in identifying your ideal audience.
But don't freak out – paid promotion of content on social media is still the most cost-effective way to reach your audience. The formula is simple – create good quality content, then invest a relatively small amount into ensuring more people see it on the right social channels.
It's a solid business strategy. Spending a few hundred bucks on promoting a Facebook post is a much more effective than dropping thousands on a print ad in a newspaper or magazine.