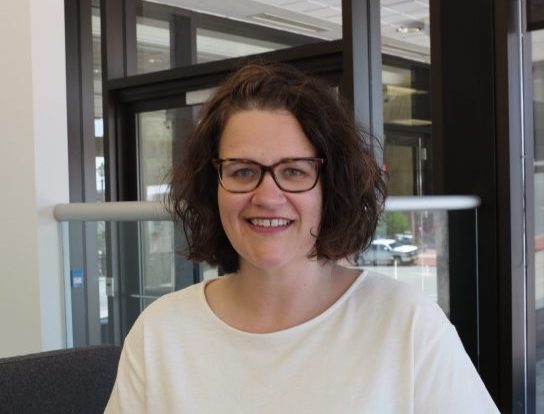 Welcome to Bonfire, Kay!
This week, we're welcoming a new face to the Bonfire team — Kay Gillis, our (effervescent and effectual) Director of Client Service. Read on to find out a bit more about her!
Where were you born?
I was born in Saint John. I've lived here most of my life (except for about 6 years that I lived in Halifax.)
What's your educational background?
I have a degree in Business Administration from UNB Saint John, and a Bachelor of Public Relations from Mount Saint Vincent University. Allan was one of my profs there! 🙂
What experience do you have with marketing and communications?
I've been working in marketing and communications for over 15 years. I've worked on the client side for companies like Eastlink and Moosehead, and most recently I was at Duke Creative Collective. I've developed strategies for tons of clients like Port Saint John, NB Power, Moosehead Breweries, Tourism New Brunswick, and the Government of New Brunswick. 
What's your favorite aspect of marketing?
I love the strategic side of marketing. Working with clients who have a great idea, product or service to share with customers – and then helping them make a meaningful connection.
What's the best thing about Saint John?
I love the scrappy attitude of this city. I'm what you might call a Johner for Life (JFL!) Even though I've lived away, my heart has always been in Saint John. I grew up in the South End/Uptown area, and I actually own a house on the same block I grew up on. I see a lot of potential in the city, and I love that lots of other people are starting to as well.
How do you like to spend your weekends? (Other than thinking about how to make Bonfire clients happy, of course)
Most Fridays after work I spend time in the uptown. Maybe I'll hit up Picaroons or Five & Dime with friends, or go out for a bite. On the weekends I spend time at the city market, either meeting pals for lunch, getting my groceries or just hanging out. I also love Harbour Passage, or going to Rockwood Park if the weather is nice. And of course, New Brunswick is pretty easy to get around — I love exploring new parts of the city and province I've never been to before.
Which of your favorite uptown businesses doesn't get enough love?
Ooooh, that's tough. I want to shout out all my favourites because I'm friends with so many of the people that work at or own the awesome businesses in Saint John. But maybe I'll give a little love to Korner Grocery #2 (KG2).
Growing up, my family used to call it Boudreau's when it was located on the corner of Charlotte and Princess. It moved to Princess Street after the Lyric Theatre burned down back in 2012. Anyway — everyone who works there is super nice and always friendly. And they have everything!
It's almost beach season — what's your favorite one in or near Saint John?
I'm a big fan of Gondola Point Beach. It's always beautiful, never too crowded, and easy to get to. Also — I burn very easily, so when my super Irish skin needs a rest there are trees for shade.
Quick hitters! Cats or dogs?
Dogs all the way. #Fiona
Halifax, Boston or Montreal?
Tough one, but I'm going to give it to Montreal on affordability. I love going to concerts there!!
Donair, pizza or fish and chips?
Pfffft. Give me a real question. Pizza.
Early bird or night owl?
A newly minted early bird. Begrudgingly. 🙂
Favorite Saint John square — Brunswick, King, Market or Queen?
Queen.
Bay of Fundy wildlife you'd most like to hang out with for a day — seals, harbour porpoises or lobster?
Those seals are right cute. Plus – they always look like they're having fun. Although I'm not sure what could be more fun than working at Bonfire 🙂